B-O-O-K
Exploration of the performative aspects of book design and the potential of three-dimensional illustrations
B-O-O-K explores innovative book design approaches merging with experimental artist books and challenges our expectations of what illustration can be. Illustration as tangible objects is a central aspect explored. Holocaust teaching and mediation have since the end of WWII developed certain common design features and color combinations. May new design practices make us understand forgotten or unseen aspects of what happened? The artistic research will be concluded in September in Bergen, Norway as part of the 80th commemoration of the Wielka Szpera which happened in the Litzmannstadt ghetto, Lodz, Poland.
This project is a continuation of the artistic research by Hilde Kramer in Lodz, Poland during the period 2016 to 2020.
EXHIBITION AND
PERFORMANCES
IN BERGEN


Mon 5th – Mon 12th Sept. 2022 (not 7th Sept), 15:00-18:00
CM7, Christian Michelsens gate 7, Bergen
Book of Remembrance program
Performances
Tue
6th Sept. 13:00-14:00
Bergen Public Library
Wed
7th Sept. 19:00-20:00
Storetveit kirke
Storetveit Church 7th Sept. 19:00 with extended program with a recording of Chaim Rumkowski's speech "Give Me Your Children" on 4 September 1942 interpreted by Helge Jordal and musical works performed by Jostein Aarvik on organ and soprano vocals by Eli-Johanne Rønnekleiv.
Fri
9th Sept. 12:00-13:00
Knut Knaus Auditorium, Faculty of Fine Art, Music, and Design
Sat
10th Sept. 12:00-13:00
Tårnsalen, University Museum of Bergen (Natural History)
Sun
11th Sept. 12:00-13:00
Bergen Railway Station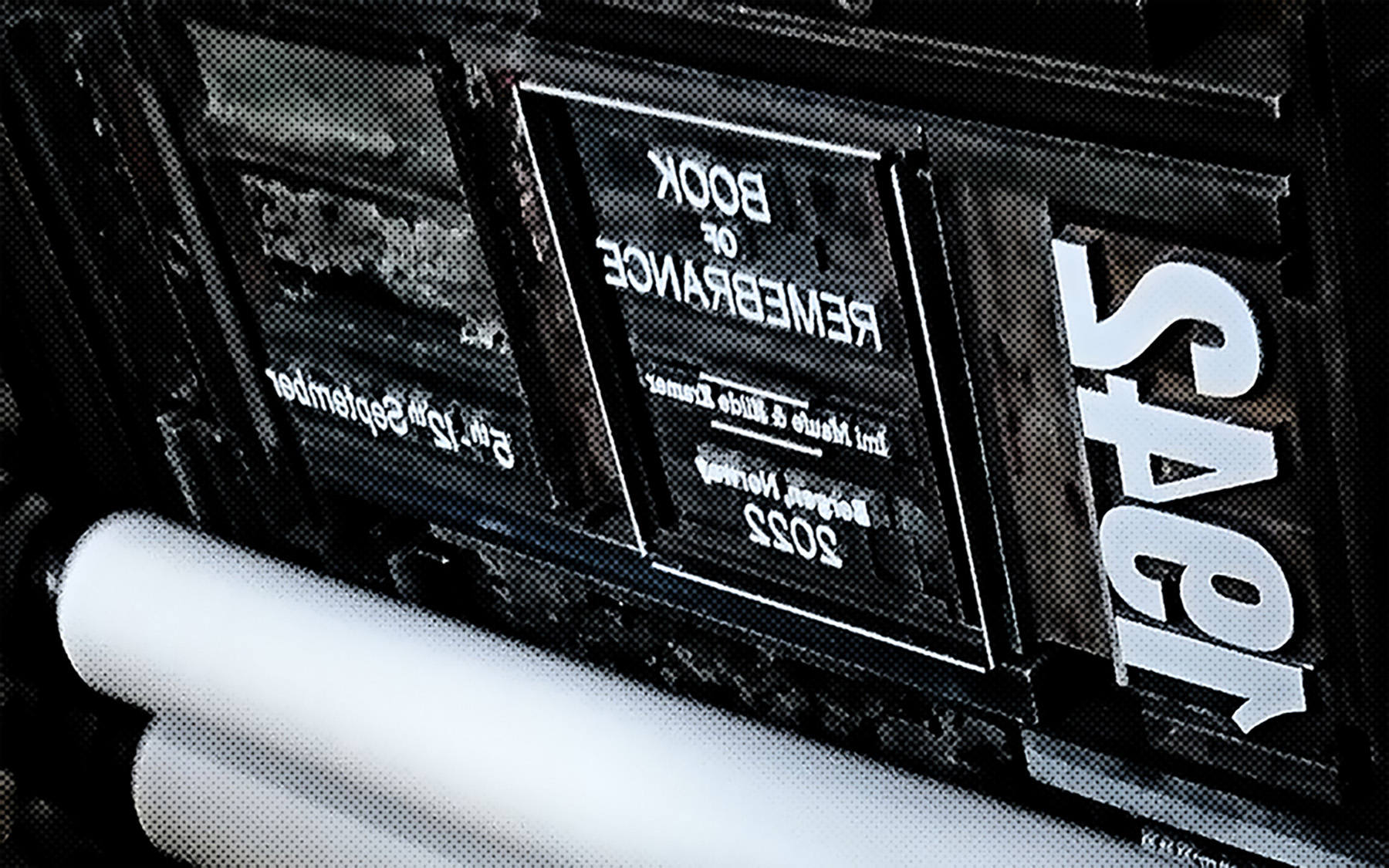 Book of Remembrance is a performative bookwork and exhibition created by Imi Maufe and Hilde Kramer for the Artistic Research Project Illuminating the Non-Representable at the Faculty of Art, Music and Design, University of Bergen. This artistic work illustrates and references an event that took place in the Litzmannstadt Ghetto in the Polish city of Łódź between the 5th and 12th of September 1942, commonly known as the Wielka Szpera (General Curfew).
The ghetto's head of Jewish Council of Elders, Chaim Mordechai Rumkowski, held a public meeting on the 4th of September on the order of the chief of German Nazi administration of the Litzmannstadt Ghetto, Hans Biebow. In the speech that has later been called Give me your children he urged the inhabitants to volunteer their children and elders for deportation. This sacrifice was to allow for a better future for the ghetto, he augmented. Litzmannstadt ghetto was in effect a forced labour camp producing products for the German war effort. Children, and the old and weak were seen as a burden to the ghetto society confined within the overcrowded, barbed-wire sectioned-off quarter of the city of Łódź.
During Wielka Szpera, a documented 15,681 children under 10 and the elderly over 65, were deported to the death camp Chełmno nad Nerem extermination camp. They were asphyxiated either on the day of arrival or the day after in gas vans especially designed for the purpose. This number of people is taken from the number of train tickets sold during these 8 days. The deportees' transport was paid for by the Getto Vervaltung (The Ghetto Administration).
During the same dates, eighty years later, this artistic work commemorates the victims from Litzmannstadt ghetto through the book and the performance designed around it. Every day the performance is set up in a specific place around Bergen (CM7, Bergen Public Library, Bergen Railway Station, Tårnsalen, University Museum; Knut Knaus Auditorium, KMD; and Storetveit Church). At CM7 there is an exhibition that contextualises the performance.
The glass book box – Book of Remembrance – will be shown alongside drawings and projections made up of the 640 names of children that have been found during the research. Visitors to the exhibition and performances are invited to take with them an artist book that contains one of the names as a keepsake.
The performance and the resulting bookwork derives its origins from a specific historic event. Simultaneously it can be seen as an acknowledgement of victims of past and present who have experienced crimes against humanity, through forced labour and incarceration, ethnic cleansing and genocide, suffering that is still ongoing in many corners of the world.
Link to Facebook event
With thanks to:
Aslak Høyersten (CM7)
Margrete Rasmussen/Ragnhild Sæther (Bergen Public Library)
Jan Helge Gram Eggestøl (Storetveit Church)
Jostein Aarvik and Eli-Johanne Rønnekleiv (musicians, Storetveit Church)
Helge Jordal (Rumkowski's speech)
Bente Oddveig Krossøy (UiB, University Museum)
Andreas Teige (Bane NOR)
Thanee Andino (UiB, production assistant)
Andreas Øvergård, Bergen Technical Museum (printing)
Book Art Museum, Łódź (letterpress printing)
Galla Theodosis, S12 Glass studio, Bergen (glass work)
Sam.Er Alyoussef, Tre Studio, Bergen (framing/carpentry)
Anne-Len Thoresen (UiB advice)
Hilde Kvalvaag (UiB publicity)
Dag Larsen (text advisor)
Simon Stranger (adaptation of Rumkowski's tale)
Marek Woloszyn (researcher)
Archiwum Państwowe w Łodzi ( Litzmannstadt documents)
USHMM (archival material)
Centrum Dialogu, Łódź (advice)
Johanna Drucker (concept advisor)
Bjarte Bjørkum (UiB, filming)
Mads Andersen and Magnus Nyquist (web design)
Fredrik Salhus (UiB, technical assistance)